Sara Ali, MD Class of '23
From community college to medical school, fueled by scholarships
Growing up in Irvine, a city in California about 40 miles southeast of Los Angeles, Sara Ali witnessed the suffering of her maternal grandfather as his neurological issues progressed. Today, as a second-year MD student at Drexel's College of Medicine, she recalls that experience as initiating and fueling her interests in neurology and neuroscience and pursuing medicine as a career.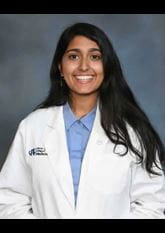 Sara Ali, MD candidate '23
Sara's early life was also influenced by her family's limited financial means. "My mother worked three jobs simultaneously to provide for her two children," says Ali. "Witnessing her tireless work ethic instilled a spirit of determination and gratitude in me, which I still find inspiring every day."
Her path to Drexel required determination, work and the support of people who invested in academic scholarships – and it still does. Sara graduated with a BS cum laude in neuroscience at UCLA, widely considered one of the leading public universities in the US, and began her college experience at two-year institutions, Irvine Valley College and Saddleback College.
Scholarships that were funded by individual donors significantly helped Sara and her family finance her undergraduate studies, and they continue to play a critical role as she pursues her MD degree. During her first year at Drexel, Sara received the Russell C. Fischer Scholarship and the Sheila E. Hodgson, MD, WMC '64 Endowed Scholarship, and she continues to be supported by the Hodgson Scholarship. Like many named scholarship funds, both were established by former students who advanced in their professions as alumni. Dr. Hodgson received her medical degree from Woman's Medical College, a predecessor to Drexel's medical college, and her namesake endowed fund was created with a preference towards supporting female medical students.
Women represent approximately 52 percent of MD students in Drexel's Class of 2023, slightly higher than the average across medical students nationally, numbers which have been steadily increasing over the years. In many cases, donor-funded scholarships have made it possible for the College's student body to become more diverse in terms of gender, race and economic background.
"When I was in community college, I hadn't met or heard of a medical student who started in community college – it literally seemed impossible," Ali recalls. "At one point, I thought, 'Can community college students or other financially disadvantaged students like me afford to go to medical school?' Potential medical students need to know the answer is, 'Yes. Yes, they can, and they can excel at it'."
When I was in community college, I thought, 'Can students like me or other financially disadvantaged students afford to go to medical school?' Potential medical students need to know the answer is, 'Yes. Yes, they can, and they can excel at it'.
In addition to her upbringing and studies at UCLA, Sara believes that her experience as a community college student remains a strong influence. At Drexel, Ali has met a handful of other students with similar experiences, including Austin Friedman '23, an MD student currently studying emergency medicine who had attended a community college in Florida. At the College of Medicine, she and Friedman co-founded the Community College Outreach Club, which seeks to address a lack of representation for community college alumni, as well as the potential stigma associated with that background.
"I was drawn to Drexel due to its progressive curriculum, diverse faculty and commitment to serving vulnerable populations," says Ali. "Philadelphia is filled with opportunities to serve. I'm here to learn and give it all I've got."
In addition to her studies and work with the outreach group, Sara is very passionate about health justice, addressing health inequities and community engagement. She is a student diversity ambassador at the College and a volunteer at the Streetside Clinic in North Philadelphia through the College's Health Outreach Project. Once Sara receives her MD, she hopes to give back to the communities that once gave so much to her and continue to empower underprivileged students and patients.
"Scholarships are essential to our College, and we are profoundly grateful to donors who support our students by funding them," says Charles B. Cairns, MD, Walter H. and Leonore Annenberg Dean of the College of Medicine and senior vice president of medical affairs. "Scholarships help students, and they enable Drexel to recruit capable students from increasingly diverse backgrounds. More broadly, by easing large debt burdens, scholarships enable students to pursue medical specialties and research based on their interests and the needs of patients and society, rather than being drawn only to the most lucrative fields. I cannot underestimate how important that is to the future of health care, and to the ideal that everyone, everywhere has access to care."
Support the College of Medicine General Scholarship Fund
Contact Us
Mail your gift to
Drexel University
P.O. Box 8215
Philadelphia, PA 19101-9684