St. Christopher's Hospital for Children
Donors and a new fund support COVID-19 care at Drexel for vulnerable patients and families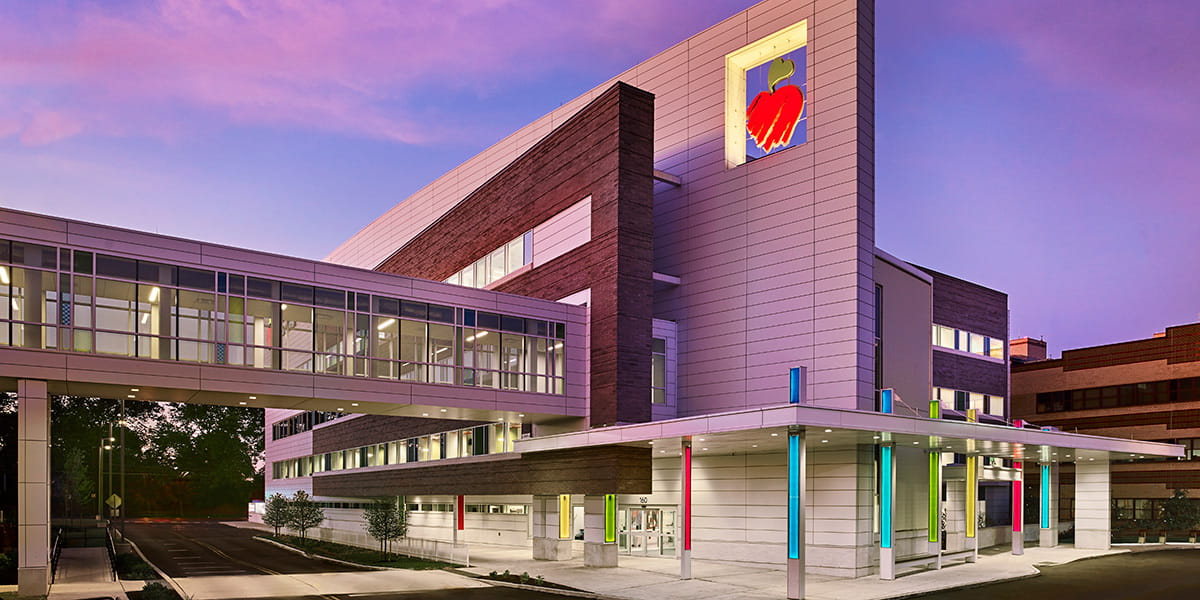 Low-income and underserved communities are among those populations which have been especially vulnerable to both the health and economic effects of the coronavirus pandemic. In line with our commitment to civic engagement and with support from generous donors, Drexel is increasing services to care for our neighbors, including patients and families at St. Christopher's Hospital for Children in North Philadelphia, a joint venture of Drexel and Tower Health.
As of early July, 192 donors, including many alumni, have given more than $130,000 to support the Emergency Fund for Families at St. Christopher's Hospital for Children. This includes a grant from a new joint venture, the PHL COVID-19 Fund.
In addition, food donations from Drexel alumni and friends, adding up to thousands of meals, have helped patient families and staff at St. Christopher's. Blair Christie '94, '99 gave a significant number of meals through Project Isaiah, a food drive which provides boxed meals in large cities across the U.S. Sharing Excess, a non-profit launched by Evan Ehlers '19 when he was a student in the Charles D. Close School of Entrepreneurship, donated meals that were redistributed from grocery stores, restaurants, university dining halls and other providers in the Philadelphia region.
Drexel medical students, as well as scientists and membership department staff at the Academy of Natural Sciences of Drexel University, have been among many donors to give or coordinate gifts of personal protective equipment and other supplies to the hospital.
In April, the PHL COVID-19 Fund (a joint venture between the Philadelphia Foundation and United Way of Greater Philadelphia and Southern New Jersey) awarded a $40,000 grant to St. Christopher's Hospital to support its work caring for COVID-19 patients. The PHL COVID-19 Fund aids nonprofits in the Philadelphia region that are on the front line of the pandemic, providing urgent resources to at-risk populations such as seniors, people with disabilities and those who are experiencing homelessness or are economically disadvantaged. The PHL COVID-19 Fund awarded a smaller grant to the Stephen and Sandra Sheller 11th Street Family Health Services, a clinical practice operated by the College of Nursing and Health Professions. During the pandemic, 11th Street Family Health has continued to deliver primary, behavioral and dental care to vulnerable and low-income patients, partly through increased use of telemedicine technology enabling patients to communicate with the practice from their homes.
You are making a real difference for many children and their families.
St. Christopher's Hospital provides care to children and youths (through age 21) through its main hospital in North Philadelphia and a growing network of primary and specialty care locations throughout the Philadelphia suburbs and New Jersey. It also provides accredited pediatric training to students at Drexel's College of Medicine. Most physicians at St. Christopher's are also on the College of Medicine faculty. Almost 40 percent of children treated there live in poverty and the congressional district where the hospital is located is the second poorest in the U.S.
St. Christopher's intends to use the emergency funding for basic supply needs, including thermometers which patient families can use at home to track the temperature of household members, breast pumping supplies and gift cards which patients can use at supermarkets and grocery stores, and to pay rent and utilities. It also seeks to provide transportation to help families visit in-patient children or to attend check-ups, follow-up appointments and meetings with social workers. There also is a need for equipment to support the increasing number of virtual telemedicine visits, including cameras and tablet computers for both clinicians and patients.
Outside of the emergency fund, Drexel has contributed medical-grade personal protective equipment. Creating medical masks and face shields, many of which have been donated to St. Christopher's, has been one of more than a dozen urgent action projects initiated by Drexel's Office of Research and Innovation and funded through gifts from the University's Board of Trustees.
"From the bottom of my heart, I want to thank everyone who is supporting patients and families at St. Christopher's," said Renee M. Turchi, MD, MPH, FAAP, interim pediatrician in chief at St. Christopher's, professor and interim chair of pediatrics at the College of Medicine and clinical professor in community health and prevention at the Dornsife School of Public Health. "You are making a real difference for many children and their families. They are so grateful."
Support the Emergency Fund for Families at St. Christopher's Hospital for Children
Contact Us
Mail your gift to
Drexel University
P.O. Box 8215
Philadelphia, PA 19101-9684