Why Barry Galman '55 Supported Scholarships With the Charitable IRA Rollover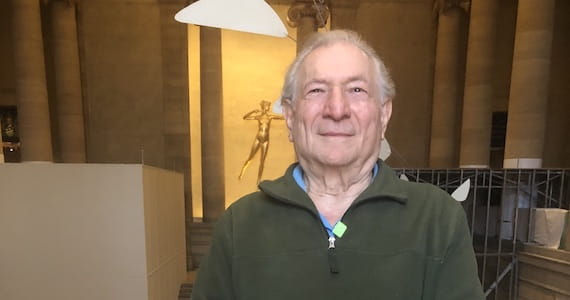 Barry Galman '55, who passed away in October 2019, was a proud supporter of his alma mater. A few years ago, he shared with us why the Charitable IRA Rollover was an ideal tool for him to help Drexel students.
Barry Galman has a "low threshold for boredom." Throughout his career in the aerospace industry, he continually sought out more-complex challenges. Now retired, this 1955 graduate of the College of Engineering looks back at his Drexel days and credits his engineering education and co-op experiences with his ability to solve new problems and to lead teams of problem solvers. It's why giving back to Drexel has been important to him for nearly 50 years.
"Drexel gave me a scholarship and supported me through the engineering program, so giving to Drexel is like a payback," says Barry. He began making annual gifts in 1969, and he gradually increased his giving over the years, eventually endowing a scholarship to support engineering students with financial need. Finding a way to fund the scholarship in a way that aligned with his financial needs took some problem-solving of its own, and it was through a conversation with Drexel's Office of Gift Planning that he learned about the Charitable IRA Rollover option. It's proven to be the best way for Barry to reap the tax benefits of giving and also make a lasting difference in the lives of today's promising students.
Barry chose Drexel because his brother Herbert had graduated from the College of Engineering in 1943. He was also very interested in the co-op program, and it was through his co-op placements that Barry came to recognize his abilities. He says, "I found that I was able to do things other people weren't. At Piasecki Helicopter Corporation, nobody could figure out how to make a form so a certain oddly-shaped helicopter part could be easily manufactured. But because of a course I had taken at Drexel called descriptive geometry, I could solve this particular problem. Everybody was amazed, and it gave me confidence that I could be a good engineer."
Barry went on to have a successful career, working for Curtis Wright, General Electric and RCA, where he applied the important skill of solving problems by building partnerships. At RCA, when faced with a new project he didn't know anything about, he recalls, "Instead of pounding my head against my desk in frustration, I developed a team. I got to know the people working on the project, and within six months I was an expert."
Barry always felt a sense of obligation to give back to Drexel in return for what he had received, and when his brother Herbert passed away, he decided to establish an endowed scholarship in his honor. Barry's family encouraged him to add his own name to the fund, and thus the Herbert and Barry Galman Scholarship was born. Barry contributes regularly to the endowment so that it has a greater impact in perpetuity, and he wants to do it in a tax-smart way. So, he decided to take advantage of the Charitable IRA Rollover option.
With the Charitable IRA Rollover, anyone who is 70½ years old or more can avoid income tax on the required minimum annual distributions from their IRA by donating IRA funds to charity. "As soon I became aware of the IRA option, I immediately started using it," says Barry. "If you give to a charity using IRA funds, that amount comes right off the top of your taxes. I would recommend this option to anybody who's in the same position." Barry also maximizes the impact of his Charitable IRA Rollover contributions by taking advantage of General Electric's matching gift program.
Barry's scholarship benefits engineering students, but he knows that supporting a Drexel education of any discipline is a worthwhile investment. "Drexel teaches you how to solve problems. You get real-world industry experience. And there's a broad range of courses for any career goal. You can be anything!"
Contact Us
Mail your gift to
Drexel University
P.O. Box 8215
Philadelphia, PA 19101-9684